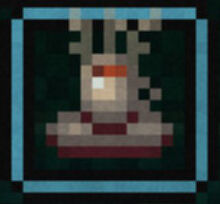 "Ah... the crutch used to prop up all the greatest minds."
— You
Coffee helps You stay awake longer and allegedly improves sanity when used in moderation. However, it may reduce sanity if drunk more than once a day.
Requires a Moka Pot to craft (can be obtained from The Director) and can only be done in Your home near refilled stove. Ingredients: 2 Ground Espresso + Bottle of Water.