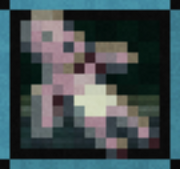 "It's a dusty, purple old thing. Gives me the creeps..."
— "You" upon examining it.
A purple doll found near a bed in Chie's apartment. She won't let you outside until you've given it to her.
It's heavily implied to be the girl in blue's doll. You has issues with touching or even talking about it.