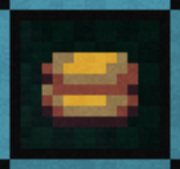 "This beautiful glazed brioche, lightly toasted on the inside, is sturdy enough to hold all the juice a juicy burger could put out. But it still has a wonderful, buttery lightness... An ideal bun, really."
— "You" describing Burger Bun.
Obtainable from Hank after attempting to give him Cat Plush after giving him all five Health Tonics. Only available in The Director's Cut on a New Game+.
Eating it by itself will have a modest increase on mental health. It can be combined with a Grilled Burger to create Hamburger, or a Grilled Tofuburger to create Tofuburger.
Sane +50
Health +30
Food +45
Ad blocker interference detected!
Wikia is a free-to-use site that makes money from advertising. We have a modified experience for viewers using ad blockers

Wikia is not accessible if you've made further modifications. Remove the custom ad blocker rule(s) and the page will load as expected.